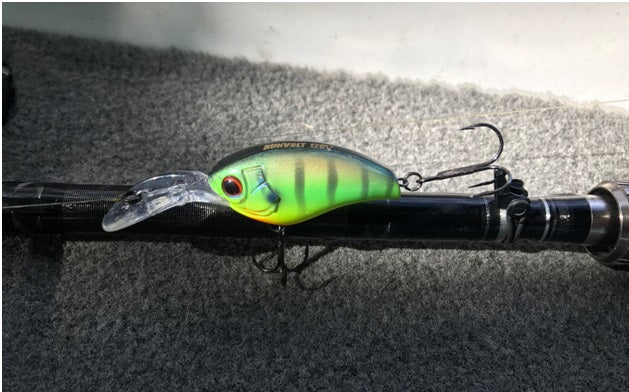 Jake's field report "Imakatsu Runvolt" Sep 7, 2017
Overview
The Imakatsu Runvolt 120v is a shallow diving crankbait that could be a secret weapon in your cranking arsenal. The runvolt is a smaller profile that could pack a large punch. This crankbait has a very tight side to side wobble with not too much roll. The body shape is like a fatter shad style body. This style creates a hybrid between the tight shad style action to a big wide wobble that a square bill has. The bill on this crankbait is almost shaped like a spoon. This style of bill is a great style for any speed retrieve. No matter how fast you retrieve this crankbait it does not blow out and swims true always. The runvolt also deflects over cover very well. This lure doesn't get hung up too much, so if you have hard structure in the area you are fishing I highly recommend banging this crankbait against any hard structure and draw up a reaction strike. The max dive of this lure is 4 feet. I really like this because when bass get pressured to all the square bills fishermen are throwing this has just a small different presentation the bass has not seen. Also, size it is a smaller body when the bass are chasing smaller bait this Is the perfect crankbait for the occasion. 
Rigging
The Runvolt comes with a standard split ring on the lure. With all my testing, I have had no trouble with the strength of the stock split ring. It seems Imakatsu put quality hardware on this lure. If you would still like to upgrade this split ring you could put on a Decoy Egg snap. This is a very strong snap that will never fail you. The stock hooks are also super strong and super sharp. I have not had any hooks bend out on any fish catch. If you would like to also upgrade your hooks Decoy has a great selection of quality treble hooks.
Testing
I recently took a trip to Long lake, Illinois to try a selection of Imakatsu lures. Long lake is mostly a grass lake so it wasn't too ideal for the Runvolt. As I was coming out of a channel I found a seawall that had a steeper drop to it than the surrounding shores and the bottom transitioned to rock. This was a perfect place to try out the Runvolt.  I was parallel casting the seawall and retrieving the lure at a fast speed. I would also twitch rod tip so it gave the appearance of a fleeing baitfish. I was trying to strike up a reaction bite. I caught a few nice bass on that strip of shore alone with the Runvolt and was very happy with the lure's results.
 Equipment
I like a very soft rod with a slow rod tip so I do not pull away the lure from the bass before they fully get the bait. My rod of choice is a Daiwa Zillion 74MHRB. This is a 7'4" medium heavy regular bend. Even though it is a medium heavy it has such a soft rod top it is perfect for the runvolt. The regular bend on Daiwa rods is a more moderate rod bend which is perfect for crankbaits and moving baits. I also like this rod because it has a shorter handle for roll casts around cover which if I can I love fishing this lure around. My reel of choice is a Daiwa Zillion SV reel in 6:3:1 gear ratio. I like the slower speed for moving baits so you aren't working the lure too fast and pulling the lure away from the bass. I upgraded my reel to ZPI bearings for a longer and smoother cast. I highly recommend upgrading to ZPI bearing because how less fatigued you are throughout the day and it is so much easier to cast. I also changed my handle to a bigger handle and knob for my personal comfort and preference. my line of choice is 10-12 pound Toray Bawu polyamide. This is a line with more stretch so you do not pull away the lure from the fish and bend out the hooks. –Jake Gaston
---