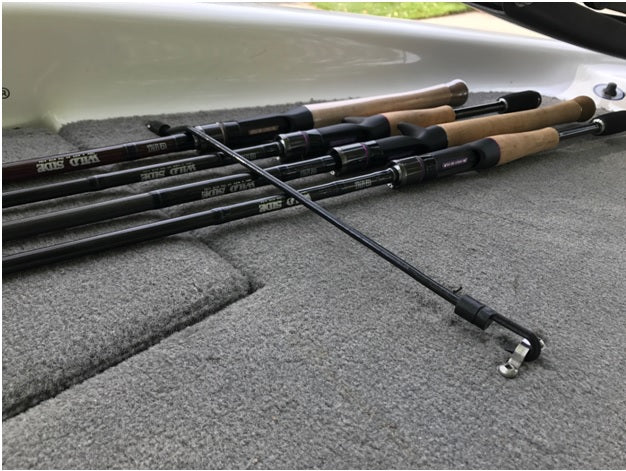 Jake's field report "Legit Design Rods" Oct 14, 2017
Overview
Recently, I have received a shipment of Legit Design Wild Side rods to test. Wild Side is the one line of freshwater bass designed rods Legit Design has at this time. I have done a lot of research before I received the shipment and saw a lot of good thing. The pro for legit design is also a very good fisherman. Mr. Kita has won the Bassers All-star Classic two years in a row. Also, the Wide Side has a strong selection of rods for different applications. With all this information, hearing good things and watching videos made me dying to see these rods in person. Once I saw them I was immediately impressed. The case them come in is pretty thick and seen like a good travel cover if you are on the go a lot. These rods were some of the lightest and thinnest rods I have seen. That is one of the things the Legit Designs team stresses is light and thin rod blanks, but also strong. the looks of these rods also blew me away, in pictures I knew they were a good-looking rod but pictures do not do justice in person. These are the best-looking rods I have seen. They were very clean looking rods with the classic cork handle look. After my first impressions of these rods I couldn't want to get on the water with them.
 WSC 69MH
This is Legit Design's frog rod. They designed this rod so that you can make very accurate casts and ability to operate frog lures. the tip on this rod helps with making fin e movement on the fro lures and make it very easy to walk them nut also strong enough to pull big bass out of cover. Besides frogs, this rod is also good for spinnerbaits and chatter baits.
 WSC 66ML
This rod was designed for crank baits and top water lures. This rod has a slower rod tip so it is their graphite version of a cranking rod. The 24T graphite absorbs the vibration of the hard lures when swimming. this model has good performance on cast accuracy. This rod is very good when you are fishing crankbaits around cover and need accuracy around structure to bang off it the right way to trigger a reaction strike. I use this rod mostly for my lighter top water lures. there is enough tip to work my walking bait but has a good bend to the blank to keep the fish pinned.
 WSC 610M
 This rod is my absolute favorite rods I have every thrown. This is truly the most versatile rod I have ever used. I could go from flipping a no-sinker worm rig to drag an ½ ounce jig and have no troubles. The rod is light enough to get good distance on my casts with light baits but also heavy enough to cast and handle that ½ jig. I have caught big fish and little fish and did not feel like the fish over powered the rod at all. Despite being a medium and very light weight and thin rod blank this is one of the strongest rods I have thrown. By the end of the day I was boat flipping fish without worrying how the rod would hold up. This is legit Designs flagship model of Wild Side and I can see why. Some suggested uses for this rod would be heavy drop shot rig, high density no sinker worm, light rubber jig and neko rig.
 WSC-G 66ML
This is the glass version of the other rod I ordered. This rod is solely a cranking rod. Unlike all the other rods this one is a 100% a glass rod. This rod loads very well on casts and gets good distance. The glass Legit Designed uses is very sensitive and you can feel every movement of the lure as it bangs against structure. They landing ratio of fish is great on this rod as once the fish are hooked the glass has a very parabolic bend to keep the fish pegged. This rod is perfect for open water conditions where you need long casts and feel to know the difference between banging against structure and a strike from a fish. It is very easy to tell when you get a hit and I was very surprised most cranking rods It takes a second to realize if I got a solid strike but this rod is so sensitive I knew exactly when the bass hit the lure.
On the Water Thoughts
After my on the water tests I was more than impressed. Not only were these the most sensitive rods I have tested they were just as durable. When I was fishing a weighted Texas rig I could feel as soon as a bass hit the lure. I have not used any other rod that could detect a bite as good as a legit design. When I was dragging a jig, I could feel and tell the difference between different types of soil composition on the lake bottom. When I first got on the water I was concerned with casting distance. All of American rods are around or more than 7 feet. All of the Wide Side rods were under 7 foot so this was new for me. All day I say no different in casting distance between my longer rods and the shorter Wild Side rods. The Wild side rods seemed to actually cast farther, they have done a lot of research to find the best blanks and bend points to get maximize casting distance.
 Here is my limit of fish from Long Lake using Legit design rods. I believe these rods helped me detect more bites and land more fish which helped me catch these nice bass.
After the first day on the water with these rods I was hooked. I can confidently say these are the best rod I have thrown and plan on doing a major chance of all my rods to Legit Design.
 –Jake Gaston
---